InMotion is the Best eCommece Host!
Whether you want to create an eCommerce website for your brick and mortar business, or you want to run an eCommerce business that is 100% web based, InMotion is the best choice to fulfill your eCommerce needs.
What Makes InMotion the Best eCommerce Host?
Launching an eCommerce website is a much more involved process than launching a simple content website or blog. While a simple content website or blog only require you to add written content, pictures and videos, an eCommerce website requires much more planning to execute it successfully. Not only do you need to build an eCommerce website on a robust platform, but you also have to fill it with your inventory, as well as ensuring that the checkout and billing process for your customers isn't plagued by any issues.
Because of the nature of an eCommerce website, it needs a stronger host than the average simple content website or blog. Fortunately, InMotion has all of the features and technology necessary to successfully host your eCommerce website. The other big advantage of InMotion is that if you are brand new to the world of eCommerce, they have everything needed to help you get started, as well as to help you transition and manage growth as your eCommerce website gets bigger.
To handle your new eCommerce website, InMotion has two plans that will fit your needs:
Business Class Pro – $7.95 a month
Business Class Power – $13.95 a month
Both eCommerce ready plans provide data backup, which is extremely important for an eCommerce website, as well as unlimited storage space. In addition to the premium website builder, both plans also include three online shopping cart choices; Zen Cart, Cube Cart and OsCommerce Shopping Cart. InMotion also provides you with Google Checkout, Shared SSL, password protected directories, PGP encryption, and the availability of a merchant account.
When you combine this with their great support and extensive list of additional features, InMotion provides everything you need to launch your eCommerce website. Once your website is launched and live, you will be able to spend time marketing it to your customers.
As your eCommerce website grows and attracts more traffic, it will consume more hosting resources. As a result, when your eCommerce website gets to a certain point, you will want to upgrade from a Business Class plan to VPS Hosting. Fortunately, one of the factors that makes InMotion the best eCommerce host is that they make this process simple to complete. When you choose to upgrade to one of the three VPS hosting plans offered by InMotion, which start as low as $39.95 a month, they will set up your new VPS Hosting account for free!
With the support of VPS Hosting and a solid marketing plan, you will be able to successfully drive even more traffic to your eCommerce website. As time goes on, you will once again hit a point where you are ready to upgrade your hosting. This time it will be to a dedicated server, and once again, InMotion will have you covered.
InMotion offers three dedicated server plans, starting at $199.95 a month. Regardless of which plan you choose, InMotion will upgrade and set up your account for free! Not only does InMotion make it extremely simple to upgrade your account, but they also don't charge you a dime for doing it.
Thanks to their Business Class, VPS Hosting and Dedicated Server plans, InMotion can guide you from the launch of your eCommerce, and continue supporting your eCommerce website as it grows into a big success!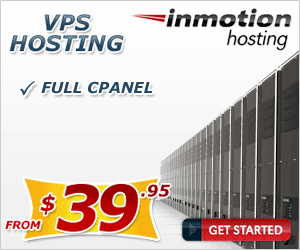 InMotion Web Hosting Review

,